Conroe - an entertainment destination
Conroe is regionally known for its arts and cultural amenities. With two community theater groups, a symphony, art league and festivals that attract big name performers, Conroe is an entertainment destination that offers locals the opportunity to enjoy music and culture without ever leaving home. In fact, since it's so easy to get around in Conroe, going to the symphony or watching a play couldn't be more convenient.
Fine Arts
Check out current performances at the Crighton Theatre, a nonprofit Performing Arts Center built in 1934 and restored in 1976. A historic venue located in the heart of Conroe, hundreds of stage productions by Stage Right Productions and numerous professional performances by the Montgomery County Performing Arts Society and The Sounds of Texas Music Series were held over the years to the delight of all.
See the event schedule at the Owen Theatre for year-round live performing arts events for production and/or presentation. Located in downtown Conroe, Owen Theatre is a soft seat venue housed in a historic building and home to The Players Theatre Company.
Interested in art? Visit the Conroe Art League, which provides classes and competitions throughout the year and is host to the Conroe Art League National Invitational Show and a Fall Art Show.
History and Museums
The history of Montgomery County, Birthplace of the Lone Star Flag, is chronicled in the Heritage Museum of Montgomery County featuring permanent and traveling exhibits. For further study, the Montgomery County Central Library has a large collection of local history books and Texana and holds the 4th largest genealogical section in Texas.
The Lone Star Monument and Historical Flag Park showcases the 13 flags that were flown during the Texas Revolution as well as the "Texian" statue by local sculptor Craig Campobella.
After a short drive to Houston, take a stroll down to the Museum District to find many venues, including: The Museum of Fine Arts; Houston Zoo; Hermann Park and Hermann Park Golf Course; Buffalo Soldiers National Museum; Asia Society Texas Center; Children's Museum; Contemporary Arts Museum; Czech Center Museum; Guided Houston Art Tours; The Health Museum; Holocaust Museum; Houston Museum of African American Culture; Houston Museum of Natural Science and many more.
Symphonies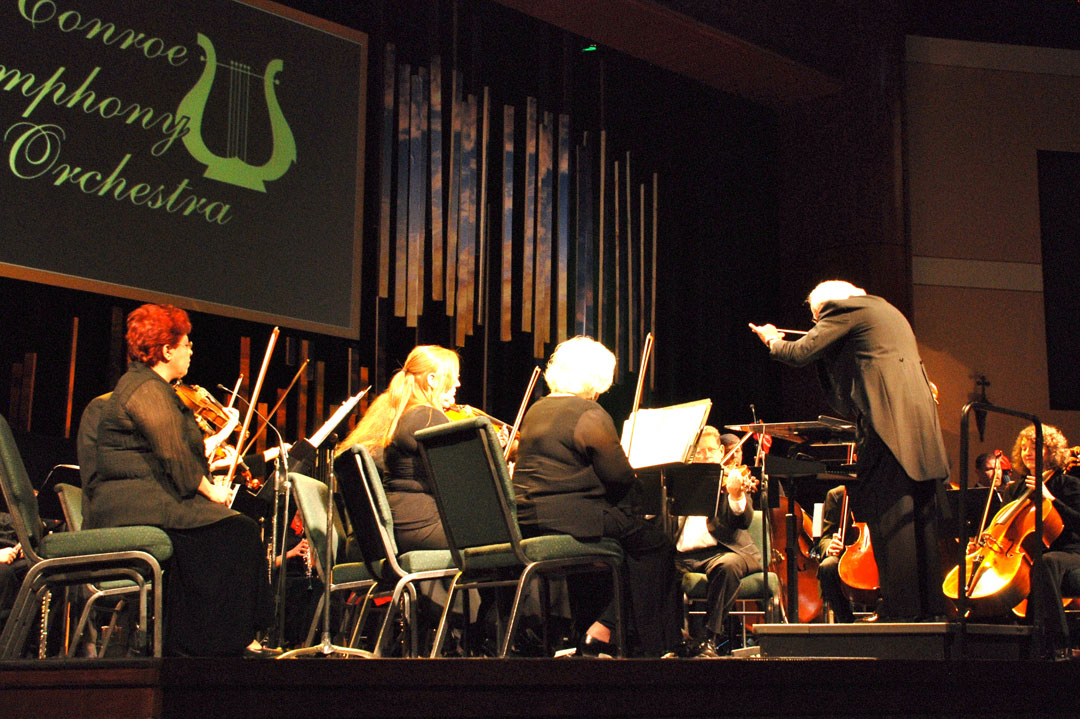 The Conroe Symphony Orchestra, Conroe Symphony Youth Orchestra and the Friends of the Symphony all make up The Conroe Symphony, a nonprofit community orchestra made up of professionals and amateurs. Founded in 1997, their vision is to "be recognized as one of the outstanding community orchestras in the State of Texas." 
The Houston Symphony and Houston Youth Symphony are located 40 miles south of Conroe, in Houston, Texas, and offer a variety of subscription package offers.