BAUER Equipment America Exemplifies How Room to Grow is Made Here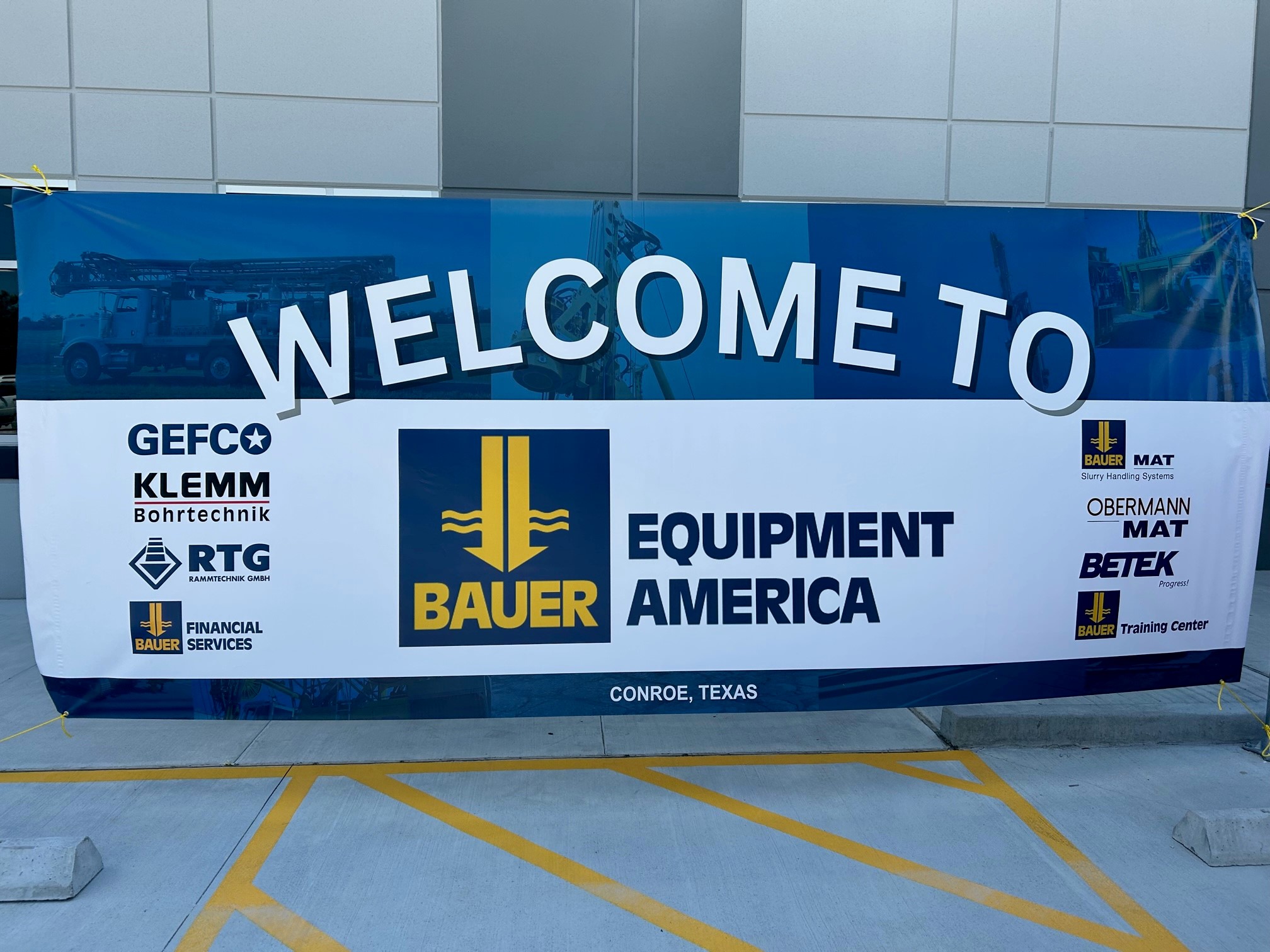 17 Aug 2023
More Is Made Here, Conroe Park North, Area Companies, Business News
The strength of Conroe's business climate is displayed not only by the companies that move to Conroe but also by existing businesses that succeed and expand here. Business expansion is key to Conroe's flourishing economy, and companies locating in Conroe quickly identify the resources needed to thrive right here. In Conroe, Texas, Room to Grow is Made Here!
BAUER Equipment America designs, manufactures, sells, and services a full-range of equipment for exploration, mining, and safeguarding natural resources. The company broke ground on their initial Conroe Park North investment in October 2017, and the $10.5 million, 78,000-square-foot facility became the company's North American headquarters when it opened in 2018. BAUER retained approximately 60 employees and expressed an expectation to add more jobs in the next five to seven years.
Fast forward to August 2023, BAUER celebrated the grand opening of an expansion project that more than doubled its space right next door to the original facility constructed less than five years ago. The expansion was a nearly $13 million investment.
Speaking at the grand opening celebration on August 9, BAUER Equipment America CEO Christian Gress expressed how Conroe became the right place for further investment.
"Conroe is home. This area is an ideal hub for what we are doing," said Gress. "We are here because we feel welcomed and supported. Conroe reacts to anything we need. We always get quick answers and are treated in a positive way. You manage to create an atmosphere and environment where it's great to do business."
In 2020, BAUER Equipment America acquired GEFCO, which provides a full range of water well and related drilling rigs. That equipment is manufactured in the new Conroe facility. BAUER expanded their Conroe team to approximately 150 people. The expanded manufacturing space was supported with state-of-the-art classrooms for training and staff offices that became operational earlier this summer. The company is also utilizing a portion of their property to train customers' operators on the equipment BAUER builds and assembles.
"We're very proud and honored to celebrate the opening of our new building. Investing today leads to a better tomorrow," offered Gress. "My three wishes for the facility are for it to be a safe and secure place to work, that it will generate prosperity for everyone involved, and that it will be just the second baby in a large family. We hope to grow further."
Conroe Mayor Jody Czajkoski attended the grand opening and offered words on BAUER's expansion and the reasons why Conroe is attractive for business growth.
"Conroe is as business friendly as any city in America," said Czajkoski. "We recognize you are only as good as your corporations, small businesses, innovators, and entrepreneurs. We are blessed to have BAUER in Conroe, Texas."
BAUER Equipment America's investment and expansion shows the opportunity for success and growth in Conroe. An ideal location, robust workforce, business-friendly principles, and collaborative partnerships help pave the way to business growth. BAUER Equipment America exemplifies how Room to Grow is Made Here!