Remembering Don A. Buckalew: Friend, Mentor and Economic Development Champion
10 Aug 2023
Business News
The Conroe Economic Development Council (CEDC) remembers and honors Don A. Buckalew as a true visionary, community leader, and a driving factor in transforming the economic landscape of Conroe. July 1st marked the day when we lost this remarkable businessman who made a lasting impact on our city's economic development. Buckalew's legacy of kindness, honesty, transparency, and fairness will forever be cherished by all who knew him.
Buckalew's dedication to the growth and prosperity of Conroe began in 1965 when he made this incredible place his home. Alongside community and Chamber leaders, he tirelessly worked to attract businesses to our beloved town, showcasing all the benefits that Conroe has to offer.
"Mr. B was very passionate about economic development," said CEDC Associate Director and long-time friend of Buckalew, Jennifer Matthews. Joining the CEDC in 1997, Matthews worked closely with Buckalew and observed first-hand the impact that he had on the Conroe community.
Buckalew helped create the Conroe Industrial Park (CIP) Group, whose vision was to create an industrial park in Conroe and recruit businesses to it. Chairing the CIP Group, Buckalew and his team traveled across Texas, adopting best practices from existing industrial parks. Their vision became reality in the 1980s with the purchase of 50 acres that is now part of beautiful 1,655-acre Conroe Park North.
His vision for economic development made Buckalew ideally suited to serve on the Conroe Industrial Development Corporation Board of Directors and CEDC Advisory Board. With a steadfast commitment to progress, Buckalew served as a CEDC board member from its inception until his passing, and his leadership as board chair for over a decade helped transform Conroe into a thriving hub for businesses.
Buckalew's exceptional economic development insight and strategic planning paved the way for countless success stories, as he played a pivotal role in recruiting the talented Tom Stinson as CEDC's first Executive Director. Together, they brought a wave of new businesses to our amazing city.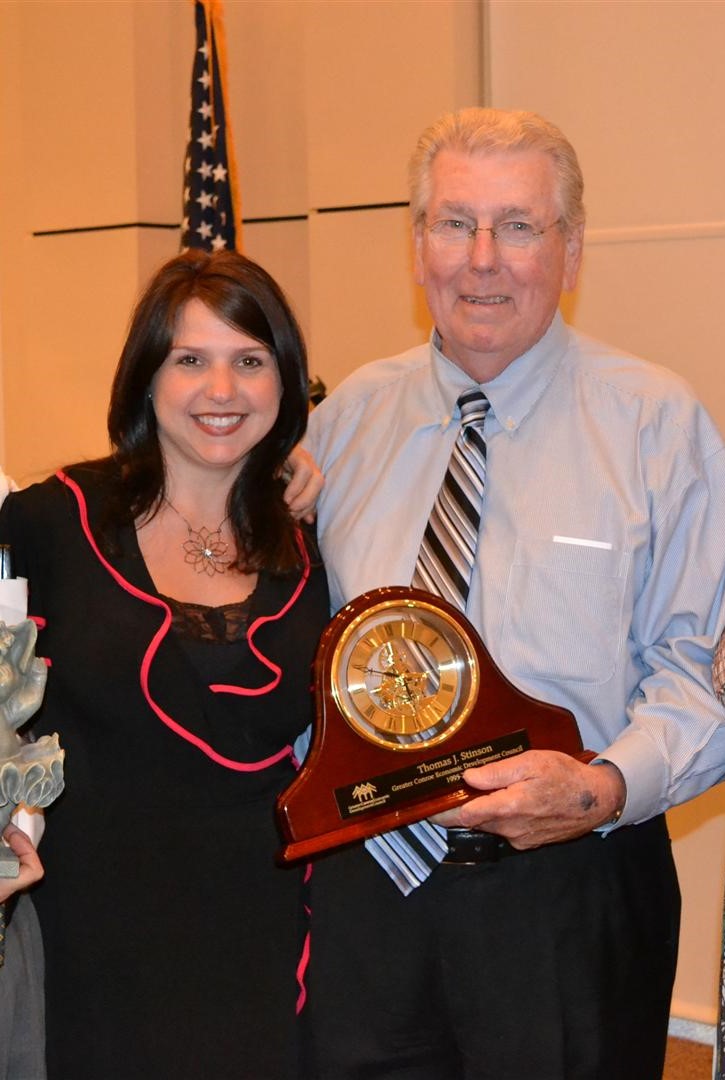 CEDC Associate Director Jennifer Matthews with the late Tom Stinson
Tom Stinson and Don A. Buckalew
"Tom and Mr. B together were a force to be reckoned with. They just complimented each other so well," added Matthews. "Mr. B was really involved in the entire creation of our program. I don't think that our organization would have seen many of the successes that it has without his leadership."
From fostering entrepreneurship to attracting new businesses, Buckalew's visionary leadership has paved the way for countless opportunities and prosperity. His forward-thinking initiatives have created jobs, strengthened local businesses, and enriched our community's fabric, earning him the inaugural Economic Development Champion award from the CEDC in May 2022.
"He truly was an economic development champion. There's not a single person in this community that has done more or supported economic development more than Don A. Buckalew," said Matthews.
L to R: Conroe Mayor Jody Czajkowski, CEDC Board Chair Steve Pilgrim, then CEDC Immediate Past Chair Don A. Buckalew, CEDC Associate Director Jennifer Matthews, and CEDC Executive Director Danielle Scheiner
Don A. Buckalew celebrating with his family on being awarded the 2022 Economic Development Champion.
Buckalew, founder of Buckalew Chevrolet in Conroe, was active with numerous organizations and associations, from Lions Club to the Houston Livestock Show & Rodeo to the Montgomery County Fair Association.
"That man had an impact on more people than you could possibly imagine. It might be support for your business, sponsoring an event, volunteering his time or any number of things. And he didn't do it to get the accolades, he genuinely cared about others and his community," offered Matthews.
Matthews, like so many others, considered Buckalew a mentor and confidant.
"Mr. B was a big part of my 25 years with CEDC. He was a mentor to me and a dear friend," said Matthews. "It's amazing how many people in this community relied on him for advice. If you were friends with Mr. B and faced with a major life-changing decision, you could always count on him for guidance. He was the go-to for so many leaders in this community."
Buckalew's contributions to Conroe and the CEDC are immeasurable. From the people he mentored to the businesses he helped recruit, his influence can be felt far and wide, leaving an indelible mark on the community he so passionately served.
"Mr. Buckalew has been a dear friend and advisor to me for as long as I have been associated with the CEDC. He set the community leadership standard to which I aspire," said Steve Pilgrim, current CEDC Board Chair.
"Mr. Buckalew rolled up his sleeves and sculpted a vision for an industrial tax base in Conroe. That gift alone is an enduring legacy," said Danielle Scheiner, CEDC Executive Director.
The CEDC will forever be grateful for Don A. Buckalew's unwavering commitment and countless contributions to economic development. We will strive to continue his work and build upon the foundation he laid for a thriving and prosperous Conroe, ensuring that his legacy lives on in every step we take towards a brighter future.