Circularity is Made Here Featuring Oleon, Lyrba USA and AZ Plastics
28 Apr 2023
More Is Made Here, Area Companies, Conroe Park North
Sustainability is more than a buzzword in Conroe. Many local companies recognize the opportunity to protect the planet, employ quality people, and make a profit with sustainable operations in Conroe, making Conroe a hub for the circular economy. Oleon, Lyrba USA, and AZ Plastics are all new to Conroe and showcase how Circularity is Made Here.
You may have heard of the three "R's" that make up the circular economy: reduce, reuse, and recycle. Sustainability experts have expanded the list to seven and now include rethink, repurpose, refuse, and rot. Oleon, Lyrba USA, and AZ Plastics are executing several of the circular economy concepts and exemplify circularity's growth in Conroe.
Oleon
Belgium-based Oleon specializes in natural chemistry to produce chemicals used in everyday products. The company converts natural fats and oils into oleochemicals, which combine high performance and biodegradability. Oleon's natural chemistry ingredients can be found in automotive lubricants, crop protection, cosmetics, detergents, and many other products.
The largest oleochemical producer in Europe, Oleon purchased a Conroe facility in late 2022 as its first American investment. Located in Conroe Park North, the plant will produce sustainable oleochemicals and help Oleon distribute them across the United States.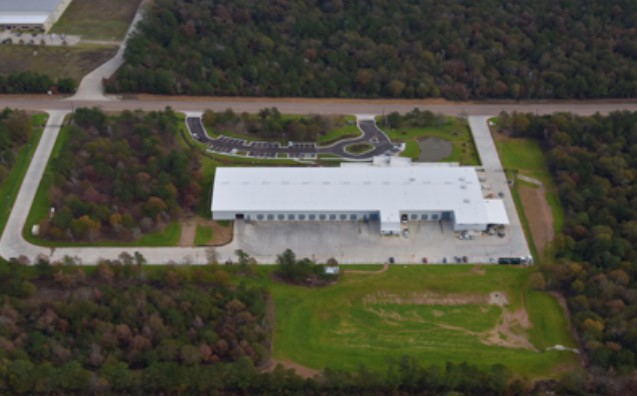 "This region is a global leader for the chemical industry with important raw materials within reach. It has excellent in and outbound logistics to serve our customers. This is going to become our hub to distribute the chemicals throughout the US," offered Dave Jacobs, General Manager of Operations at Oleon.
The redesigned facility is expected to be operational in June and will reach full capacity by 2025. Jacobs anticipates employing around 80 people when the plant reaches full maturity. Oleon is currently hiring and anticipates a strong candidate pool. A talented workforce and strong business environment attracted Oleon to Conroe.
"Oleon believes Conroe is a business-friendly environment. We expect to find a lot of good people here," said Jacobs.
Oleon is proud of its culture of sustainability and its role in the circular economy. In 2022, Oleon was awarded the EcoVadis Platinum Medal for its advanced sustainability practices. This recognition puts Oleon in the top one percent of sustainability.
"Oleon has always invested in sustainable solutions. Everyone is moving toward more sustainable products, but that has been us from the beginning," said Jacobs. "Our products have a very low environmental impact. They are sustainable and biodegradable. We want to provide an environment with pleasant living for our children and grandchildren."
Lyrba USA
Lyrba USA has been working in the United States for 12 years with this the first year of its Conroe operations. The company employs around 20 people in Conroe and is continuing to grow.
The Mexico-based company has a core purpose to create a circular economy and emphasizes that mission at its North Frazier Street facility. Lyrba USA collects ocean bound plastic from Mexico and turns it into flakes. The flakes are shipped to Conroe where it is turned into sheets, or film, used on everyday products.
"We found a big opportunity. If we can collect it, wash it, grind it, and make a new product, we believe that we're helping the planet and contributing to the economy," said Victor Flores, Lyrba USA Financial Planning & Analysis Analyst.
Understanding the consumer helps Lyrba USA advance the circular economy. Flores and Lyrba USA believe that engaging and educating consumers is critical, and the company is eager to take on that responsibility.
"Many consumers are looking for environmentally friendly containers," said Flores. "We still need to promote circularity and the importance of creating a circular economy through education of consumers on why they should recycle and buy recycled products."
Conroe's advantageous location offers Lyrba USA a great opportunity to reach new and existing customers.
"We found that Conroe is well-located in Texas to move product. If we want to sell to Houston, Dallas, or even Florida, Conroe offers a great location. We believe the recycling industry in Texas has room for growth," added Flores.
AZ Plastics
AZ Plastics was founded in Chicago Heights, Illinois, in 2018. The family-owned business has a goal to eliminate single use plastics through a process that is committed to sustainability.
AZ Plastics contributes to the circular economy by recycling high-density polyethylene (HDPE), HDPE frac melt, and high molecular weight (HMW) plastic. The company then shreds, washes, and pelletizes the recycled plastic. These pellets are sold to customers to make new end products for consumers. Examples of products made from the pellets include flower pots, patio furniture, and plastic culverts.
"We're part of the circular economy and we want to become a bigger part of it. That's our goal," said Dan Curcuro, AZ Plastics Conroe Plant Manager.
Curcuro expects AZ Plastics to be operational in Conroe by this summer. The company already has clients in the region and expects to continue growing their reach due to the emphasis companies are putting on circularity.
"The market is good because more companies are trying to be circular," added Curcuro.
The company searched from Baytown to College Station for their Texas expansion and settled on Conroe thanks to its welcoming nature for new businesses. The ability to hire and source locally contributed to the decision. Curcuro expects to hire around 30 employees.
"The main driver, really, was that Montgomery County and Conroe would be a business-friendly environment for us," offered Curcuro. "We want to hire local and have as many local vendors as possible."
From natural chemistry to reused and recycled plastic, Conroe companies are leading the way in growing the circular economy. Oleon, Lyrba USA, and AZ Plastics offer solutions for a more sustainable planet and opportunity for economic growth in Conroe. Their efforts are among the reasons that, in Conroe, Circularity is Made Here.