Matthews Celebrates and Reflects on 25 Years with Conroe EDC
For 25 years, a constant force at the Conroe Economic Development Council (CEDC) has formed relationships, assisted businesses, and propelled economic growth. Associate Director Jennifer Matthews, the longest-tenured employee in CEDC history, celebrates a quarter century with the organization this month. Matthews has played a major role in cultivating Conroe's economic success and continues to deliver first-class service to Conroe's growing business community.
Matthews worked her first seven years as Administrative Assistant and eight more years as Research Specialist before being promoted to Associate Director in 2012. In these roles, she has led or assisted with every function of the CEDC. From prospect meetings to social media and everything in between, Matthews has served with exuberance and excellence.
Matthews manages the CEDC's retention and expansion efforts. To excel in this role, she forms and nurtures relationships with existing businesses to understand present and future needs. Fortunately for the CEDC, establishing relationships is where Matthews excels. Whether it's the top executive or a rank-and-file employee, Matthews has a way of connecting and understanding.
"I enjoy connecting with people on different levels. I never knew I had that gift until I got into this role," said Matthews. "One of the most important skills that you need in economic development is to be a people person. You have to be able to connect with people and build those relationships. That's what we are — we're connectors."
When Matthews took on the Associate Director role, it presented her an opportunity to improve necessary resources for existing businesses in Conroe. She developed programs and events that assist with businesses growth.
Matthews's creation of the Conroe Job Fair in 2013 was a major step in connecting Conroe's growing workforce with Conroe's expanding business community. Thousands of job seekers and hundreds of companies have participated in the first ten editions of the job fair, leading to sustainable careers and business prosperity.
First Conroe Job Fair Held at the Lone Star Convention Center on January 24, 2013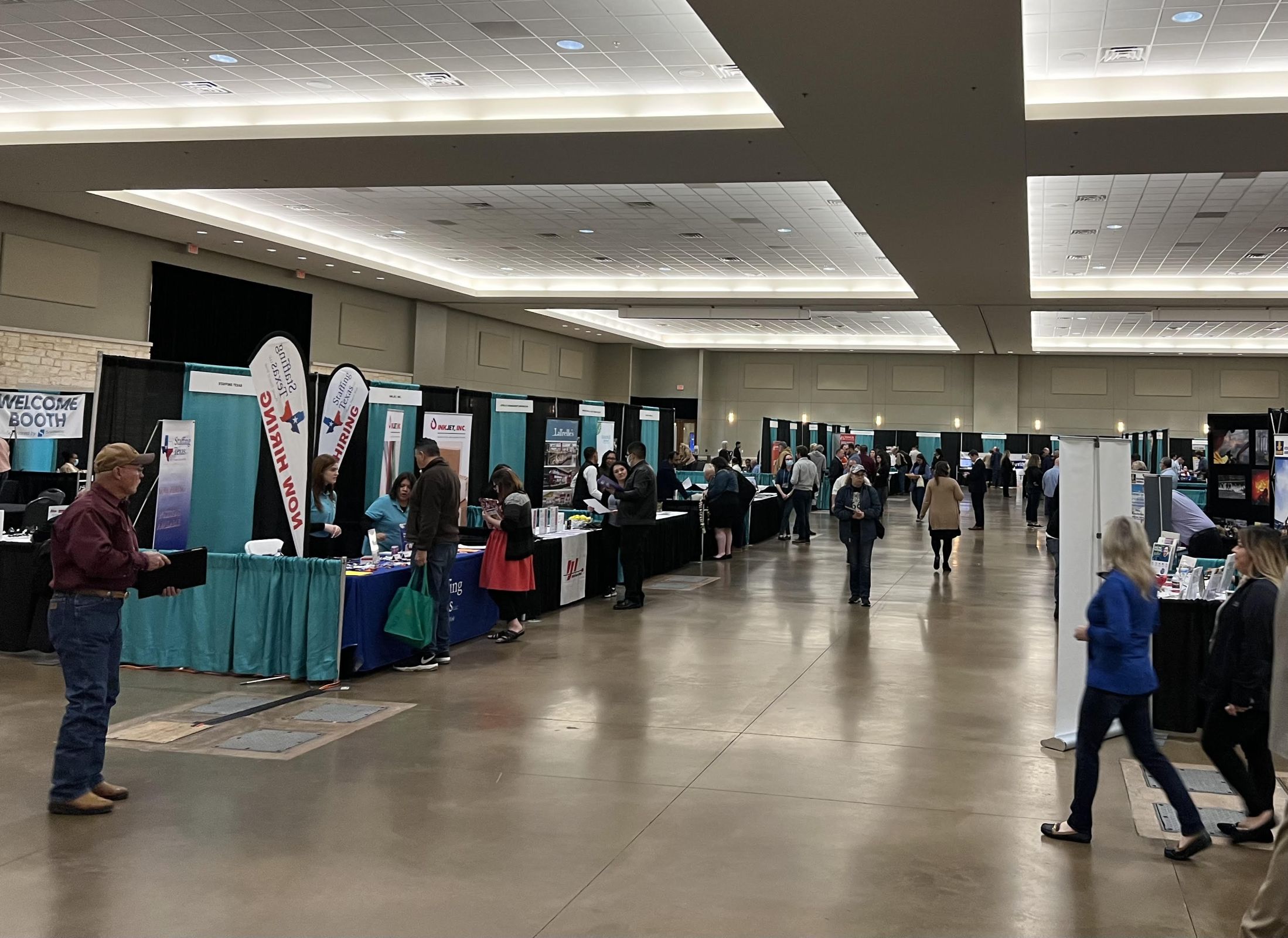 10th Annual Conroe Job Fair Held at the Lone Star Convention Center on January 25, 2022
Similarly, Matthews helped form peer groups for Conroe businesses to share challenges and best practices. Groups like HR Fuse and Business Fuse build connections and create a strong business ecosystem to stimulate retention and expansion.
"I thought, 'If I'm going to do this, I want to make it my own and do some creative things that haven't really been done before,'" offered Matthews.
As Matthews reflects on her time with the CEDC, she is struck by the growth of Conroe and Conroe Park North. She has seen three expansions to the industrial park and watched it grow from 400 acres to 1,655 acres and more than 3,000 employees. She is proud of the businesses who decided to call Conroe home and the impact that those decisions have on the people employed by Conroe businesses.
"The quality of the companies that we've attracted is pretty remarkable. You have to have great job opportunities for your community to thrive," added Matthews. "I love visiting with employees after a company moves to Conroe. Seeing how their lives are enriched is so rewarding."
The opportunity to serve Conroe has been gratifying for Matthews. Conroe has been her home for 30 years. The people and culture of Conroe have left an indelible mark.
"One of my favorite things about Conroe is that we're a big city, but we don't feel like it. Everywhere you go the people are friendly and you see somebody that you know," she adds.
On the theme of people, Matthews is quick to acknowledge her teammates, partners, and stakeholders.
"We have an amazing team at the CEDC. All of our personalities complement each other," offered Matthews. "We also have such great support from our boards and elected officials. They make our jobs easier. Many projects never would have happened without their support."
Matthews makes it clear that she still has plenty more to give Conroe and the CEDC. That said, 25 years is a time to reflect and appreciate.
"I don't think there's a single thing about my job that I don't love. I'm so thankful for the opportunity," Matthews offered. "I've grown a lot, learned a lot, and worked with a lot of amazing people over the years." As Matthews indicates, there is a lot more to come.