People Helping People is Made Here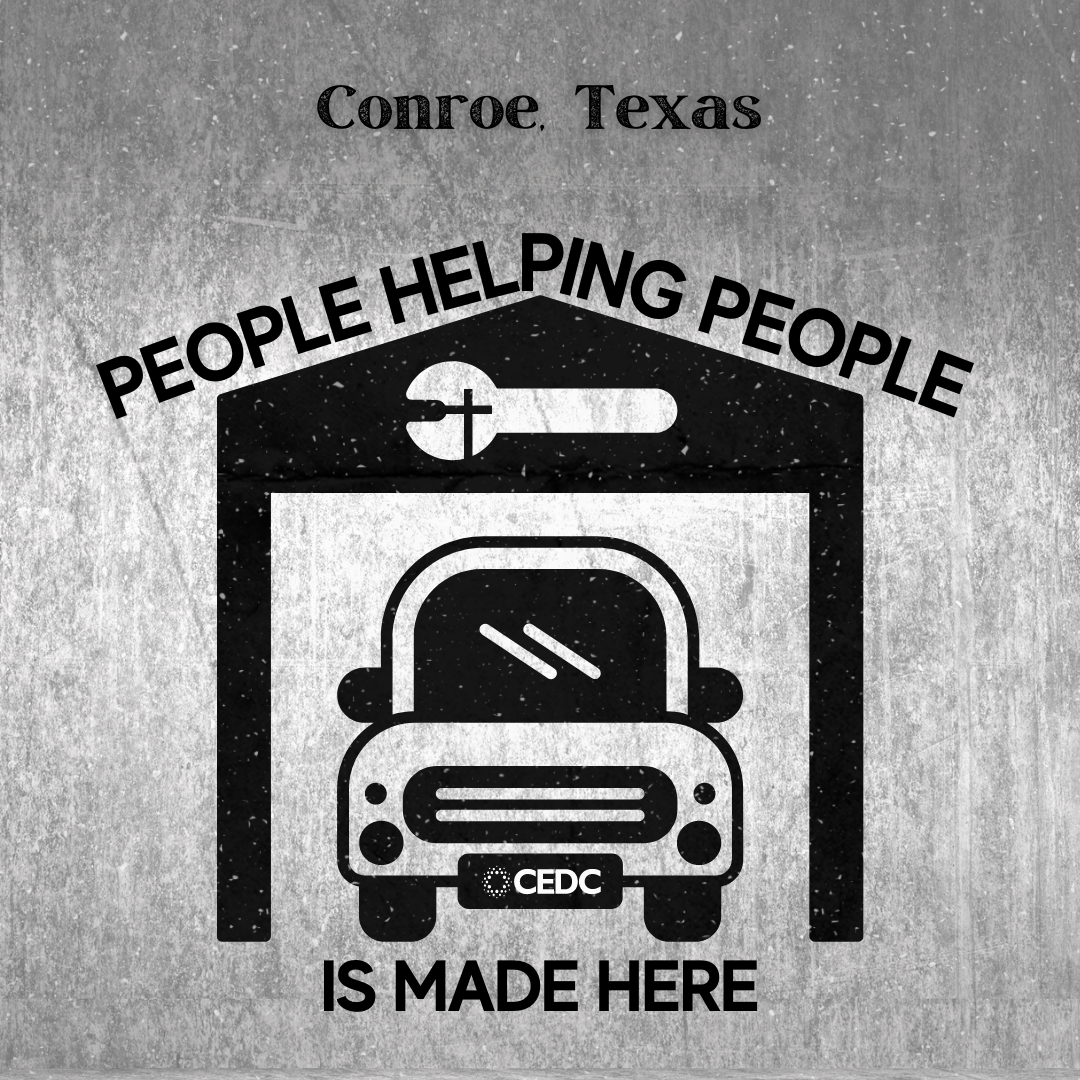 10 Nov 2022
More Is Made Here, Area Companies
Like many cities, it is the people that define Conroe. The fabric of the community is found by understanding the individuals who live, work, and learn in Conroe. It is a city filled with pride, determination, and compassion. Assisting a neighbor means a stronger Conroe, and organizations like God's Garage are making that happen. Led by the actions of God's Garage and many other organizations, companies, and citizens in Conroe, People Helping People is Made Here.
God's Garage was founded in 2010 when a local pastor encountered a single mother and her family who could not afford to get their car out of the shop walking down Highway 105 in Conroe. He arranged for the repairs and the car's release and set forth on a mission to help single mothers in similar situations.
Eventually God's Garage expanded their mission to keep single mothers, widows, and wives of deployed military on the road safely. The nonprofit organization executes its mission by providing repairs to vehicles and gifting vehicles to women in need. God's Garage has gifted more than 600 vehicles and repaired more than 300 vehicles since its inception!
"There's nothing like the moment when you put the keys in the hands of a single mom or widow and watch her face light up. You realize that one simple act of kindness just changed her life forever. Not only does she get a vehicle, now she gets to go to the grocery store consistently. She gets to drive her kids to doctor appointments and to school. That's what it's about," said Executive Director Justin Coggins.
While vehicle repairs and donations continue to be essential to those seeking God's Garage assistance, the organization decided they wanted to do more for those in need. Utilizing the expertise of volunteers, God's Garage began Life Skills Training to further empower and enrich.
"It's one thing to give a car away, but let's also think about what we can do for an eternal purpose," offered Coggins.
Life Skills Training seminars are held monthly for single mothers, widows, and wives of deployed military. The ladies who attend learn about important life skills, such as budgeting, meal planning, job interview preparation, and basic vehicle maintenance. Just as important, attendees have the opportunity to bond with each other to build a support system. Women who complete the seminar are eligible to receive a car from God's Garage.
"It's encouraging for them to see they aren't the only ones going through hard times," added Coggins. "The idea is not to just get them through the system or make them jump through hoops to receive a car but to show them there's more in life and there's people around them to help."
Giving the gift of empowerment is important to the staff and volunteers of God's Garage. Life skills help these women be self-sufficient and independent after receiving their vehicle or auto repairs. The goal for many is to enter the Conroe workforce. This empowerment can lead to generational positive change.
"By empowering these ladies, it helps change their mindset. Now that something positive is happening in their life, their attitudes are different," said Coggins. "Many of these women have had a tough life. As an organization, we stand up and say, 'We don't want to take advantage of you or hurt you. We see your pain.' We want to bring them from a place of despair to a place of prosperity."
The Conroe community has been a perfect fit for God's Garage. The area's support of the organization has helped it meet the needs of women in and around Conroe. While God's Garage reaches a 75 mile radius, more than 50 percent of applicants are local. Coggins believes that God's Garage has built trust in the community by doing what they said they would do and helping those they said they would help. Conroe residents, leaders, and professionals have reached out by donating their time and vehicles. More than 160 volunteers from all walks of life help God's Garage fulfill their mission.
"It's neat to see all the people that come out to make this place work. When you've got a group of people that come together with a mission and a likeminded focus to make someone else's life better, a lot of good things happen," added Coggins. I think that people in Conroe take ownership and pride in the fact that this is happening in their own backyard."
God's Garage plans to be in Conroe a very long time, as evidenced by a new facility that is nearing completion. Located on East Davis Street, just east of Downtown Conroe, God's Garage is building a 10,000 square-foot office and repair shop, which they plan to be in by the end of the year. Coggins is hopeful the new facility will produce 300 percent more output and meet a goal of donating 500 cars per year. Meeting these goals requires more volunteers and vehicle donations, which leads to more opportunities to help others in Conroe.
Helping fellow citizens is part of Conroe's soul. While rapidly growing, Conroe's small-town charm and neighborly values remain. God's Garage is an example of how the community seeks to lift up those around them. People Helping People is Made Here.