Scheiner Marks Milestone with Fifteen Years in Economic Development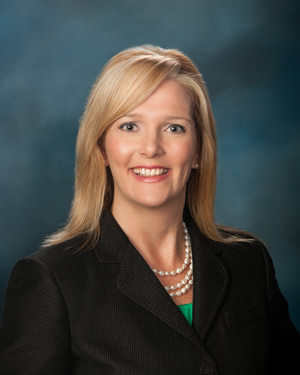 For 15 years Conroe Economic Development Council (CEDC) Executive Director Danielle Scheiner has been serving her community through economic development. Working to bring jobs, investment, and opportunity to Conroe, Scheiner's dedication to her profession delivers impactful results. As we celebrate Scheiner for her milestone, her story shows that in Conroe, Leadership is Made Here.
Scheiner's career in economic development began in community development with Entergy Corporation. In that role, she honed her leadership skills by collaborating with leaders and developing trust in communities. She moved to the CEDC in 2013 and quickly applied her skills to elevate the organization.
The Texas A&M graduate has led the CEDC since 2017, overseeing significant growth within Conroe. As Scheiner points out, leading in economic development not only means driving economic growth but also requires an understanding of community and maintaining strong connections within the community.
"It's key to understand your community and know what the community wants. Then you can align your skills and programs with your community, which will focus your efforts more directly and more successfully," said Scheiner.
Understanding what Conroe desires has always been top of mind for Scheiner and the CEDC. Listening to residents, local businesses, and key stakeholders drives that understanding. Listening, Scheiner points out, is the key to good leadership.
"The most important thing a leader can do is listen, study, and take in all of the information," offered Scheiner.
Conroe's diversified economy is a direct result of listening and understanding community needs. While Conroe has always been a popular spot for traditional manufacturing, the CEDC has worked hard to bring in new industries. That success has led to a more dynamic economy and more opportunity in Conroe.
"I think the greatest example of what we do is how the economy has diversified in the time that I've been here. We have a healthy mix of companies and I'm most proud of that. As we've evolved as a community, we've evolved and set our sights a little higher in terms of the types of projects we could attract," added Scheiner.
Diversifying the economy and creating opportunity for business success has helped Scheiner and the CEDC expand their influence. The credibility earned through exceptional results is not something that Scheiner credits to herself. Like all good leaders, she recognizes the people around her.
"You hire the right people then get out of their way. Everyone here has leeway to make their mark and bring ideas to the table, which I think is really important," said Scheiner. "Our staff has built a reputation that people trust what we have to say. When we speak, we have a pretty strong voice."
Trust and influence are something that Scheiner has earned throughout Conroe, Texas, and the industry. Her expertise and desire to help is exhibited while serving on the board of directors for the Texas Economic Development Council, Team Texas, Gulf Coast Workforce Board, Leadership Montgomery County, New Danville, and Montgomery County Food Bank. Scheiner's credentials include being a certified Professional Community and Economic Developer (PCED) and a graduate of both Community Development Institute and OU Economic Development Institute.
The credentials are important to Scheiner but making a difference in Conroe is her mission. Leading by example for 15 years, she has shown the positive impact that economic development can have on an entire community. Spoken like a true leader, the opportunity to influence that impact is what drives her to and through this milestone.
"I think the best thing about leading in economic development is knowing that we're having a positive impact on the community. I've seen that on display in Conroe. That's the thing that's most rewarding about the job."