CEDC Roundtable Shines Light on Why Economic Development is Made Here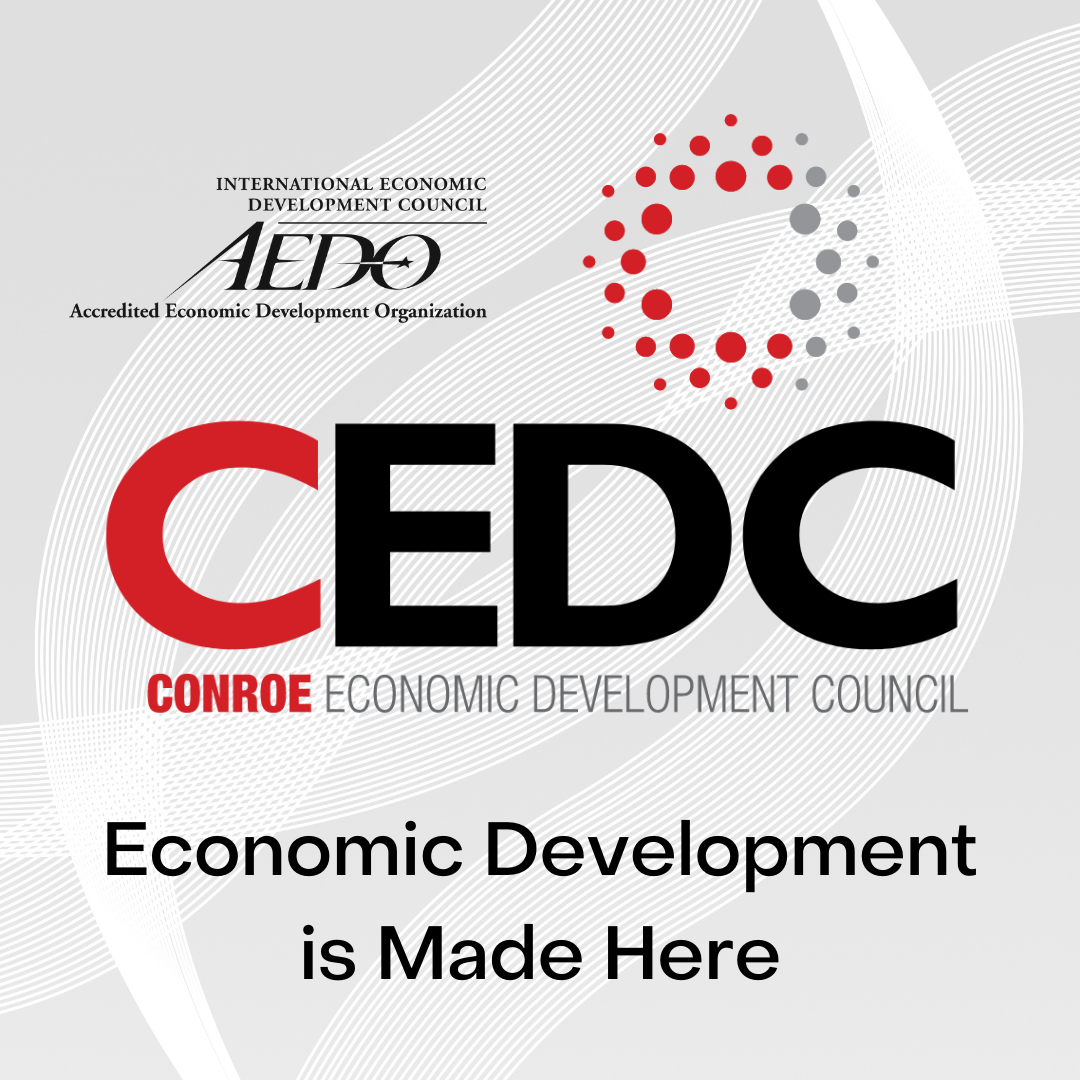 11 May 2022
More Is Made Here, Area Companies
The City of Conroe and the CEDC are ready and prepared to help businesses succeed. In Conroe, Texas, Economic Development is Made Here!
Conroe Mayor Jody Czajkoski kicked off the second day of Economic Development Week telling partners and stakeholders at the Economic Development Week Roundtable that Conroe is prepared to grow its economy and positioned to be the most dynamic city due to a business-friendly environment that cultivates an entrepreneurial and innovative spirit throughout the city.
"Put us to work for you," Mayor Czajkoski implored the audience. "We have a good Conroe EDC team and excellent partners who know where to get the service you need to be successful in Conroe."
Czajkoski, an entrepreneur himself, topped a stream of panelists who outlined support for small and entrepreneurial businesses, large industry, and gave testimony of success made here in Conroe. Rhonda Ellisor shared business support and research available through the Small Business Develop Center (SBDC) at Sam Houston State University. Ross Folkenroth previewed Woodforest National Bank's commitment to entrepreneurship through its Woodforest FoundrySM to be unveiled in August.
The highlight of the program was a panel of recently successful entrepreneurs who told their success stories with high energy, humor, and a bit of humility and faith.
Meredith Jurica, a former Conroe ISD speech pathologist turned CEO and Founder of Makeup Junkie Bags, summarized her success as "five years, Shark Tank and $12 million dollars," alluding to her years in business, an offer from her television appearance on Shark Tank she later declined, and total company sales. Frustrated with not being able to organize her makeup in a cosmetic bag, Jurica made her own bag and people admired it. After "getting tired" of making bags for admirers for free, she turned her passion into a business during one summer when school was out. It was not without struggles.
"I answered my cell phone, 'Makeup Junkie Bags, how can I help you,' like I was some sophisticated company, but I was folding laundry while answering the phone," Jurica deadpanned. "When I made the decision to go all in, I thought 'I am going to fail and be the biggest embarrassment'."
Jurica, and fellow panelist Frank Jackson, pointed to resources that helped them succeed. Woodforest National Bank took a chance on loans and helped with business plans. Both entrepreneurs were envious of resources offered by SBDC.
Jackson, owner of The Table at Madeley – a food truck park and outdoor music venue, told Rhonda Ellisor that if he would have known about the SBDC's free resources, he would have asked "help me Rhonda, help me Rhonda" singing a verse of the popular Beach Boys 1960s hit song.
Responding to questions, Jurica and Jackson gave accolades to the City of Conroe and Conroe Economic Development Council (CEDC) for its support and credited the community and culture of Conroe for success.
"My life, my friends, and my family are in Conroe," Jurica emphasized when explaining why her company is based in Conroe and why she is committed to giving back to the Conroe community.
"I sort of grew up in Conroe and want to help keep the culture of local business," offered Jackson, whose food truck park and entertainment venue in downtown Conroe features a 2,000-square-foot building for indoor dining and music, a 24 x 20-foot outdoor stage and event space, and permanent food trucks with outdoor dining. He summarized his success as "monetizing large gatherings at his house" by providing a special venue in downtown Conroe. "Our food truck park allows us to give back to my city in a unique way."
The CEDC hosted Economic Development Week May 9-13 to celebrate the success of local businesses and spotlight a growing economy and creation of jobs in Conroe. With a population of nearly 100,000, Conroe has been cited as the second fastest-growing city in the U.S. for its population growing more than 70 percent in the past decade, according to CEDC Executive Director Danielle Scheiner. She also added that Conroe's well-educated population leads to a qualified and available workforce of nearly 50,000 workers.
The 1,655-acre Conroe Park North and the 248-acre Deison Technology Park provide ample sites to attract interested industry to Conroe. Conroe-North Houston Regional Airport with its U.S. Customs facility is attracting corporate aviation relocations to Conroe.
Additional attractions helping to lure corporate relocations and expansions include the recently opened Sam Houston State University College of Osteopathic Medicine, Margaritaville Lake Resort with its 303 luxury suites, cottages, golf course, and convention center, and, coming soon, a $99 million full-service Hyatt Regency Conroe and Convention Center, according to Scheiner.
With the positive energy around entrepreneurship support and small business development, in addition to the support of existing industry and the attraction of manufacturing and service sector business (basic industries) which bring new capital and employment opportunities into the community, it's no wonder than in Conroe, Texas, Economic Development is Made Here!