International Business Event Welcomes Largest Ever US Delegation
An international event celebrating the business links between Aberdeen, Aberdeenshire and Houston has marked its landmark fifth anniversary this month by welcoming its largest ever international delegation.
The fifth annual Aberdeen-Houston Gateway, attended by the GCEDC's Executive Director Fred Welch, kicked off on Monday, March 20th with a brand new technology showcase featuring presentations by Pipe Cleaning Solutions, Safehouse, Centrifuges Un-Limited, Arnlea Systems, and a visit to the premises of ROVOP at Westhill, Aberdeenshire.
ROVOP is an independent subsea specialist dedicated to providing the best possible Remotely Operated Vehicle (ROV) services to the subsea oil and gas, offshore wind and telecommunications industries. From its headquarters in Westhill and operational facility in Houston, its unique approach combines the most advances technology with highly skilled personnel and a first-class customer culture which reduces risk and improves efficiency for clients.
Tuesday, March 21st featured the event's flagship lunch at Macdonald Norwood Hall Hotel where an audience of 140 enjoyed networking and knowledge sharing over a mouth-watering Scottish showcase lunch. They also heard from a line-up of leading speakers from both sides of the Atlantic who shared their experiences of UK and U.S. markets, and examined how to further strengthen the links between the global energy hubs.
The following day presented the Houston visitors with the opportunity to explore Energetica thanks to a guided tour which included visits to various businesses and key projects, including Peterhead Port Authority and The Store, Foveran.
Energetica, Scotland's Energy Corridor, is a long-term economic development initiative that aims to create a world-class development cluster, to help attract and retain talent of all ages to the region for the foreseeable future. Focussed in one of Aberdeen City and Shire's strategic growth areas, Energetica comprises a stunning coastal setting and improving infrastructure, and seeks to integrate two key components; sustainable economic growth and quality of life.
There is a regional ambition to grow Aberdeen City and Shire's reputation as the location of choice for high-value economic activity in the four key sectors of Energy; Food and Drink; Life Sciences; and Tourism, and Energetica has been recognised as a key strand of realising that ambition.
The Energetica corridor stretches over 30-miles from Bridge of Don in Aberdeen, north to Peterhead and west around Aberdeen International Airport.
Energetica development manager, James Welsh, said: "There are parallels to be drawn between the Aberdeen city region and Houston, with key opportunities for businesses to export and share their knowhow built up in the energy sector. The success of The Woodlands and Houston Energy Corridor initiatives are great case studies in what Energetica aims to achieve for the North East of Scotland.
"The Aberdeen-Houston Gateway event acts as a facilitator for knowledge sharing between these two international energy hubs. We are delighted to have the opportunity to be part of that, and showcase the North East of Scotland and the innovative projects and businesses within the Energetica corridor to our Houstonian visitors and continue to foster that valuable link.
"Not only does Energetica host attractive new investment opportunities alongside innovative new and mature businesses who are seeking to grow and internationalise, set within a stunning natural environment, it also boasts an enviable quality of life for those seeking a location to live, work and visit."
Andrew Derry, Principal, British International School of Houston said: "When it comes to school and education, children of expats will face multiple challenges. We ensure that relocating families are fully prepared for this transition, whether they are transferring into or out of our school. As the oil and gas industry continues to diversify, we are in a unique position through the Aberdeen-Houston Gateway to create professional links with industry leaders, relocation advisors, and educators that will help us support transitioning families and the shared challenges they all face. Through our global network of schools, universal curriculum, and prestigious collaborations we embody what it means to be connected. We support this event because it facilitates opportunities for worldwide connections in the fields of energy and education."
Jeffrey Blair, Director Europe, Middle East & Africa for the Greater Houston Partnership added: "This year felt extra special to me not only because it is a milestone year, but just because Greater Houston is more widely represented in Aberdeen this year than ever before. My fellow delegates really outdid themselves. I would like to personally thank everyone involved in organising this event, in particular 'the engine that makes this train run', Brett Jackson of Granite PR."
Commenting on the new technology day, ROVOP Commercial Director Euan Tait said: "We were delighted to welcome the U.S. delegation to our facilities in Aberdeen as part of the 2017 Aberdeen-Houston Gateway. This visit provided a good opportunity for ROVOP to outline both our ROV service offering and growth ambitions- highlighting our continued focus on the U.S. market where our growing presence continues to be an important catalyst for future growth."
Granite PR founder and managing director, and Aberdeen-Houston Gateway creator Brett Jackson reflected: "Current operating conditions mean that it has never been more important to look at diversifying and adding value, and we hope that the Aberdeen-Houston Gateway has again provided an important springboard from which to grow businesses. There still exists a very special relationship between Aberdeen and Houston, with both locations having firm reputations as entrepreneurial cities where, for those with the right drive and focus, anything is possible."
The 2017 Aberdeen-Houston Gateway is supported by Aberdeen & Grampian Chamber of Commerce, Aberdeen City Council, Aberdeenshire Council, Arnlea Systems, Beatty CPA LLC, BoyarMiller, British Airways, British Consulate General Houston, British-American Business Council, British International School of Houston, CBRE, Comerica Bank, Energetica, Energy Voice, Foster LLP, Greater Conroe Economic Development Council, Greater Houston Partnership, G-Tech Innovation Center, Hampco, Hilton Post Oak, Katy Area Economic Development Council, Lea Insurance Group, Lone Star College Foundation, Macdonald Hotels & Resorts, North Houston Economic Development Council, Paychex Inc – US, Petrasco, Pipe Cleaning Solutions, PKF Texas/Johnston Carmichael (Scotland), Press and Journal, ROVOP, Safehouse Habitats (Scotland) Ltd, Scottish Development International, Skene House Apartment Hotels, Texas Global Business Network, TradeMark Insurance Agency LLC, UKTI, Woodlands Area Economic Development Partnership, Woodlands Convention & Visitors Bureau.
More Topics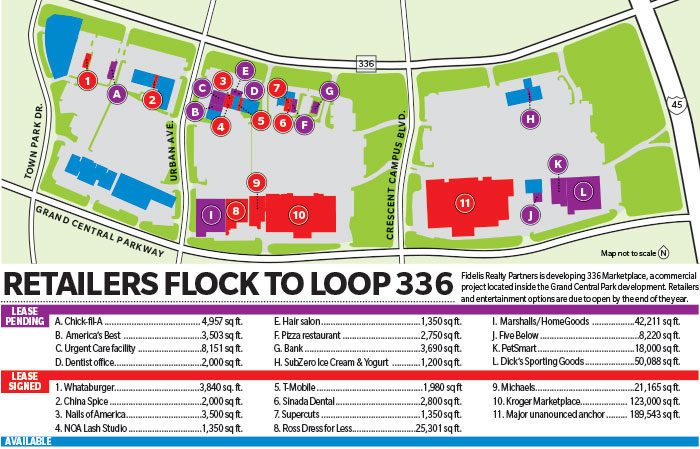 Construction on 336 Marketplace—a 700,000-square-foot retail development by Fidelis Realty Partners in the Grand Central Park master-planned community—is nearing completion, and the first retailers are due to open by the end of the year.  Read more
Business projects supported by the Greater Conroe Economic Development Council (GCEDC) during 2013-2016 created nearly $400 million in capital investment and 703 direct jobs, according to a recent report from Impact DataSource, an economic consulting, research and analysis firm. The Impact DataSource report further stated that an additional...
Lone Star College-Conroe Center officially opened its new, state-of-the-art workforce training expansion facility to continue its mission in serving the needs of those in the community seeking to enter a new career, expand withing an existing one or simply learn something new. With the 11,055 square feet expansion, the...