Conroe named the fastest growing city in the nation by the U.S. Census Bureau
The U.S. Census Bureau announced on Wednesday that Conroe topped the list of the fastest growing cities in the nation.
Of the top 15 fastest growing cities, 10 cities were located in the south and 6 of those are in the state of Texas, according to the bureau. The city of Conroe population grew from 76,362 residents in July 2015 to 82,286 residents in July 2016. That is a jump of 5,924 residents.
Representing a 7.8 percent growth in population, Conroe outpaces other top cities with a population of more than 50,000 residents—such as Frisco and McKinney, which came in as No's. 2 and 3 on the list with 6.2 and 5.9 percent population growth, respectively, according to the bureau.
The U.S. Census ranked Conroe as the fastest growing city in the nation, by percentage, between July 2015 and 2016. Conroe tops the list with 7.8 percent growth, a 1.6 difference compared to second on the list, Frisco.
Conroe, TX…..7.8 percent growth
Frisco, TX…..6.2 percent growth
McKinney, TX…..5.9 percent growth
Greenville, SC…..5.8 percent growth
Georgetown, TX…..5.5 percent growth
Bend, OR…..4.9 percent growth
Buckeye, AZ…..4.8 percent growth
Bonita Springs, FL…..4.8 percent growth
New Braunfels, TX…..4.7 percent growth
Murfreesboro, TN…..4.7 percent growth
Lehi, UT…..4.6 percent growth
Cedar Park, TX…..4.5 percent growth
Meridian, ID…..4.5 percent growth
Ankeny, IA…..4.5 percent growth
Fort Myers, FL…..4.5 percent growth
Conroe Mayor Toby Powell said he is surprised Conroe made the list as No. 1, but that he expected to be in the top 10 fastest growing cities in the nation.
"It is unbelievable," Powell said. "It means so much for the area. It is a goal to be the best of the best. We are doing something right. It is all about quality of life for the citizens.We are a small town but we have a big heart.""
He said the rise of population can be attributed to job creation in the city and the surrounding area by employers such as those at the Conroe Park North Industrial Park in Conroe and the ExxonMobil campus is Spring, as well as the numerous developers building new homes in the city to accommodate those employees.
"I attribute it to the vision that these large development groups like Johnson Development Corp. and the Howard Hughes Corp.," Powell said. "They see the vision that we have. We have ExxonMobil at our front door. We are reaping the harvest from the growth from people that work there and want to live in a large town with a small town atmosphere. That is what we are."
The city continues to expect population growth in the coming years and projects it will reach a population of 100,000 residents by the year 2020, Powell said.
"I think we will be there before that," he said. "That is three years from now and Johnson Development already has about 150 houses on the ground [at Grand Central Park]. We also have large companies coming in to the [Conroe Park North] industrial park. They have higher paying jobs there. It is a wonderful time to live in Conroe."
By Jesse Mendoza, Community Impact
More Topics
An international event celebrating the business links between Aberdeen, Aberdeenshire and Houston has marked its landmark fifth anniversary this month by welcoming its largest ever international delegation. The fifth annual Aberdeen-Houston Gateway, attended by the GCEDC's Executive Director Fred Welch, kicked off on Monday, March 20th with a brand new...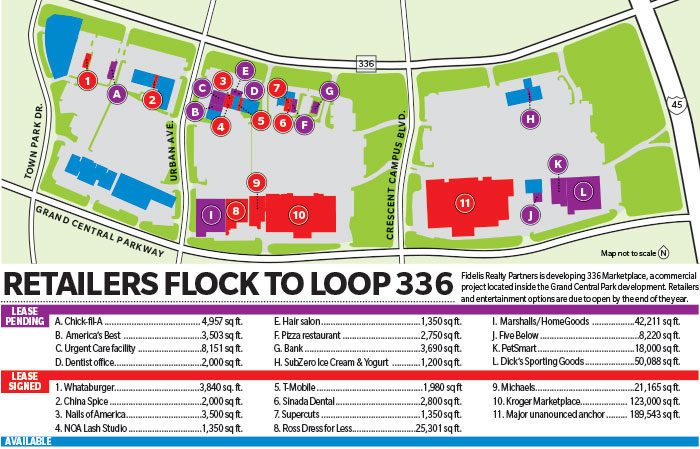 Construction on 336 Marketplace—a 700,000-square-foot retail development by Fidelis Realty Partners in the Grand Central Park master-planned community—is nearing completion, and the first retailers are due to open by the end of the year.  Read more
Business projects supported by the Greater Conroe Economic Development Council (GCEDC) during 2013-2016 created nearly $400 million in capital investment and 703 direct jobs, according to a recent report from Impact DataSource, an economic consulting, research and analysis firm. The Impact DataSource report further stated that an additional...