Conroe EDC Celebrates that Economic Development is Made Here
11 May 2023
More Is Made Here, Staff News, Area Companies, Business News, Downtown Conroe
Conroe's growth and success were on display during National Economic Development Week 2023. A pair of events showcased the strength of Conroe's economy and the people leading the way. Surrounded by partners and stakeholders, the Conroe Economic Development Council (CEDC) was proud to display that Economic Development is Made Here.
The CEDC hosted the second annual Economic Development Week Roundtable on Tuesday, May 9, at 202 Main. More than 50 people filled the charming downtown Conroe venue to gain insights from entrepreneurs, local leaders, and business resources.
Moderated by CEDC Deputy Director Laura Lea Palmer, who spearheads the CEDC's entrepreneurship effort, a panel of entrepreneurs delivered a robust discussion about the joys and challenges of starting a business. Four Conroe small business owners showcased the diversity of businesses in Conroe. Conroe Mayor and MHW Commercial Real Estate President/CEO Jody Czajkoski, Sapphire Gas Solutions CEO Sam Thigpen, Almost August Owner Kernita Butler Heard and Dragon Bowl C Owner San Cheng offered unique perspectives with their entrepreneurial stories.
Photo Credit: Andrew Yousse, City of Conroe
Photo Credit: Andrew Yousse, City of Conroe (L-R: Laura Lea Palmer, Jody Czajkoski, San Cheng, Sam Thigpen, Kernita Butler Heard)
"I fell in love with the natural beauty and culture of Conroe," said Mayor Czajkoski. "I knew the opportunity was here to build a business."
Heard was also drawn to Conroe's charm, as she looked for a place to launch a business after burnout during Covid-19 drove her away from the corporate world.
"There's a heartbeat in downtown Conroe. It just feels like home to me," said Heard.
Cheng can be described as a serial entrepreneur having started several Conroe businesses. Dragon Bowl C Noodle Bar in downtown Conroe was born from a love of food and community. The tie to community remains important to Chang.
"I saw the opportunity to develop a business for the community. It has always been important to get to know our customers," offered Chang.
Thigpen discussed the rewarding elements of owning a business, specifically the opportunity to help clients and employees.
"I enjoy leading people and seeing them grow," said Thigpen. "I also love solving people's problems, and we get to do that every day."
The panel's entrepreneurial insights and stories followed a host of speakers that outlined resources available to entrepreneurs, small businesses, and future leaders. Sam Houston State University Small Business Development Center Director Rhonda Ellisor highlighted the role they play in guiding small business growth. Sam Houston State University Entrepreneurship Program Director and Co-Director of the Center for Innovation, Technology, and Entrepreneurship Bob Milner discussed the importance of mentorship and the success Sam Houston State University is having in developing entrepreneurs.
Photo Credit: Andrew Yousse, City of Conroe
Photo Credit: Andrew Yousse, City of Conroe
Dr. Carla E. Alsandor, Senior Director of University of St. Thomas's Conroe micro-campus, USTMAX Center, updated the crowd on the success of the downtown Conroe campus and the programs available for students and business leaders. Finally, Conroe/Lake Conroe Chamber of Commerce Director of Special Events Courtney Budra detailed the Chamber's newly-launched Young Professionals Network designed to develop Conroe's future leaders.
Photo Credit: Andrew Yousse, City of Conroe
Photo Credit: Andrew Yousse, City of Conroe
Conroe Mayor Pro-Tem Curt Maddox welcomed the crowd with opening remarks and a brief highlight of Conroe's desired developments, including Conroe Park North, Deison Technology Park and Grand Central Park. CEDC Executive Director Danielle Scheiner and the rest of the CEDC team provided an overview of the ways that the CEDC helps businesses in Conroe thrive.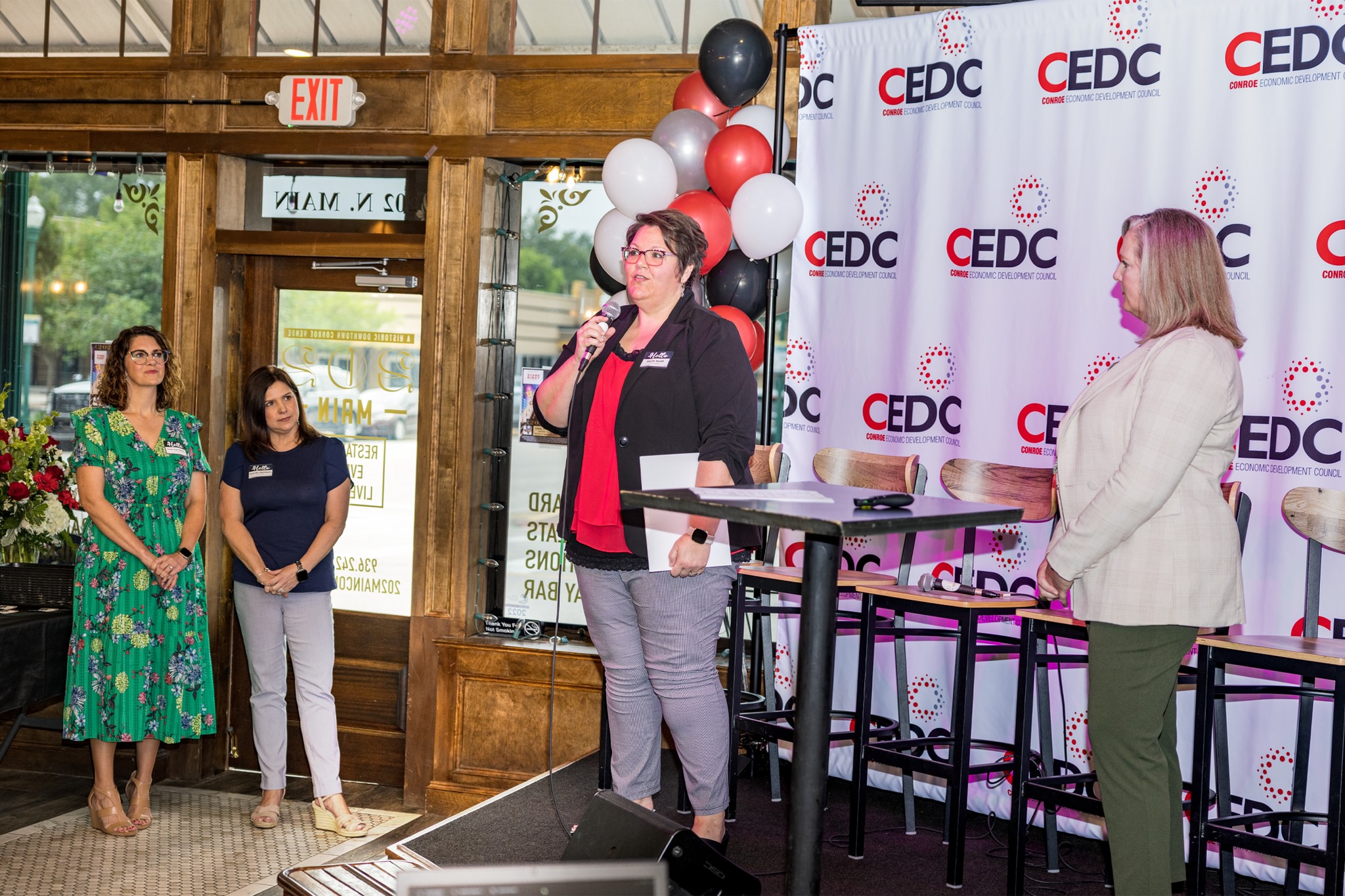 Photo Credit: Andrew Yousse, City of Conroe
The week commenced with CEDC ally the Conroe/Lake Conroe Chamber of Commerce hosting an economic development luncheon on Monday, May 8. With centerpieces featuring Conroe companies and the products they make, more than 100 attendees learned about the current state of economic development in Conroe. CEDC Advisory Board Chair Steve Pilgrim highlighted the importance of partnership in his opening remarks before turning it over to Scheiner.
Scheiner's presentation detailed Conroe's growth over the past decade and the statistics that prove Conroe's place as a premier business destination. An overview of recent projects in Conroe Park North and Deison Technology Park demonstrated Conroe's success attracting new business.
Scheiner transitioned from industrial to multiple new projects taking Grand Central Park to the next level. Hyatt Regency Conroe & Convention Center is set to open its doors, while Sam Houston State University is constructing its Health Professions Building next to the College of Osteopathic Medicine.
Scheiner wrapped up by highlighting the renaissance of downtown Conroe. She discussed a number of projects that are enhancing the area's offerings, including Conroe-based Lindsey Properties' plans to redevelop three sites that will bring residential, retail, and office to the city's cultural center.
Photo Credit: Conroe/Lake Conroe Chamber
Photo Credit: Conroe/Lake Conroe Chamber
Photo Credit: Conroe/Lake Conroe Chamber (CEDC Staff L-R: Sharla Smith, Danielle Scheiner, Jennifer Matthews, Valencia Alasmar, Laura Lea Palmer)
A busy week showcasing business leaders and economic growth is a snapshot of economic success in Conroe. The CEDC encourages you to check out ConroeEDC.org and their Why Conroe podcast to learn more about Conroe's business climate. You will learn more about the business growth and entrepreneurs featured this week. No doubt it will help demonstrate that Economic Development is Made Here!