Precision is Made Here Featuring Conroe Machine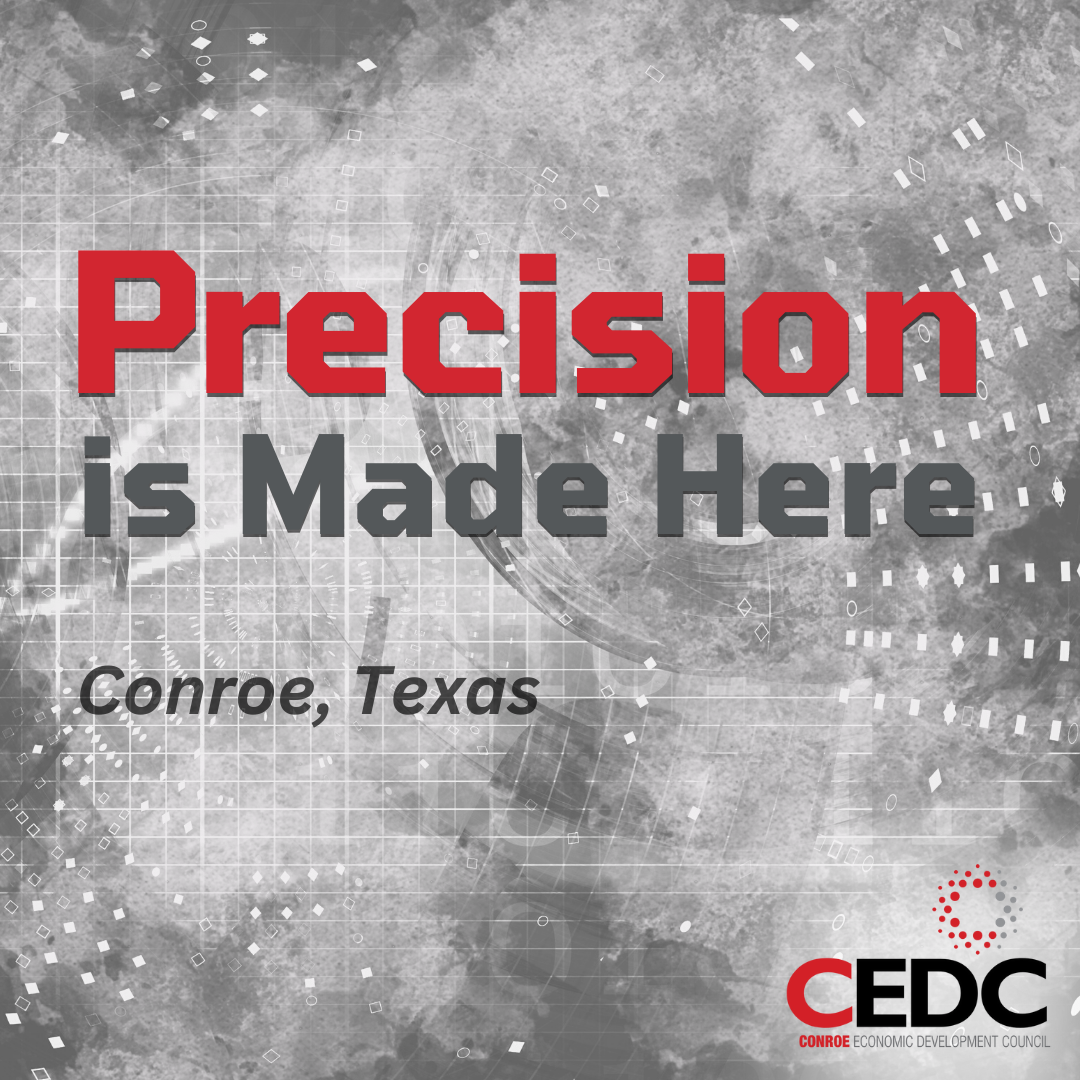 14 Feb 2023
More Is Made Here, Conroe Park North, Area Companies
Technological advancements are everywhere in our lives. From cellular devices to smart homes to automobiles, new technologies create a more precise world. Conroe Machine, located in Conroe Park North, has been leading the way in their industry by applying new machining technology to manufacture equipment for the most precision-oriented businesses. Driven by a people-first culture enhanced with modern technology, Conroe Machine shows that Precision is Made Here!
Conroe Machine was founded in 2000 with just one machine and two machinists and the company has evolved from manual machines into a full-service, automated machine shop with a passion for precision.
"Technology is leading the industry with the ability to machine things smarter, faster, and more efficiently. Every new machine we buy, we purchase with the idea that it's going to make us better and help us stand out more in the industry," said Jessica Echegaray, Conroe Machine President. "It's easy to put out mass products, and it's easy to put out something that's not good quality. To set ourselves apart, we aim for precision."
Conroe Machine's investment in modern technology through automated machines and software leads to improved production and quality control. These technological improvements help Conroe Machine earn key certifications that allow the company to venture into new industries and diversify its customer base. Primarily machining for oil and gas companies before the Covid-19 pandemic, the company has successfully entered the aerospace, military, and defense sectors.
"We can get the different aspects of our machining to a very, very precise measurement—down to the thousandths. This is what they're calling for in aerospace, oil and gas, defense, valves, and other precision machining segments that we can serve," added Echegaray.
Conroe Machine's success is not solely credited to automation. Echegaray is quick to point out that the company's people have been key in helping the company grow to new heights in recent years. In late 2020, Conroe Machine only employed 17 people. Today, they are approaching 90 employees with a much more diverse workforce. Valuing those who wear the Conroe Machine logo and practice precision every day is a point of emphasis.
"We've made a conscious decision since the bottom of Covid to really focus on people," said Echegaray. "We listen to our employees and incorporate their ideas to make sure that they understand how important they are to us."
Conroe Machine has designed an in-house apprenticeship program that helps new employees learn precision necessary to execute operations. The company identifies candidates who have an aptitude for mechanics and places them in the program where they start as shop hands and work toward becoming a Class A machinist. As an apprentice, they learn material handling, quality control, and machine operations. Conroe Machine's location has helped the Conroe company find skilled labor to enter the program.
"The majority of the people we interview have lived in Conroe almost their whole lives. We can find local talent here because it's a great place to live and work," offered Echegaray.
Investing in new technology, great people, and thoughtful training has elevated Conroe Machine. With new opportunities to perform manufacturing precision for a variety of industries, the company continues to trend up. Conroe Machine highlights the value of precision and shows that in Conroe, Precision is Made Here.