Main Street Market: Reliably Local Products, Everyday Conroe Charm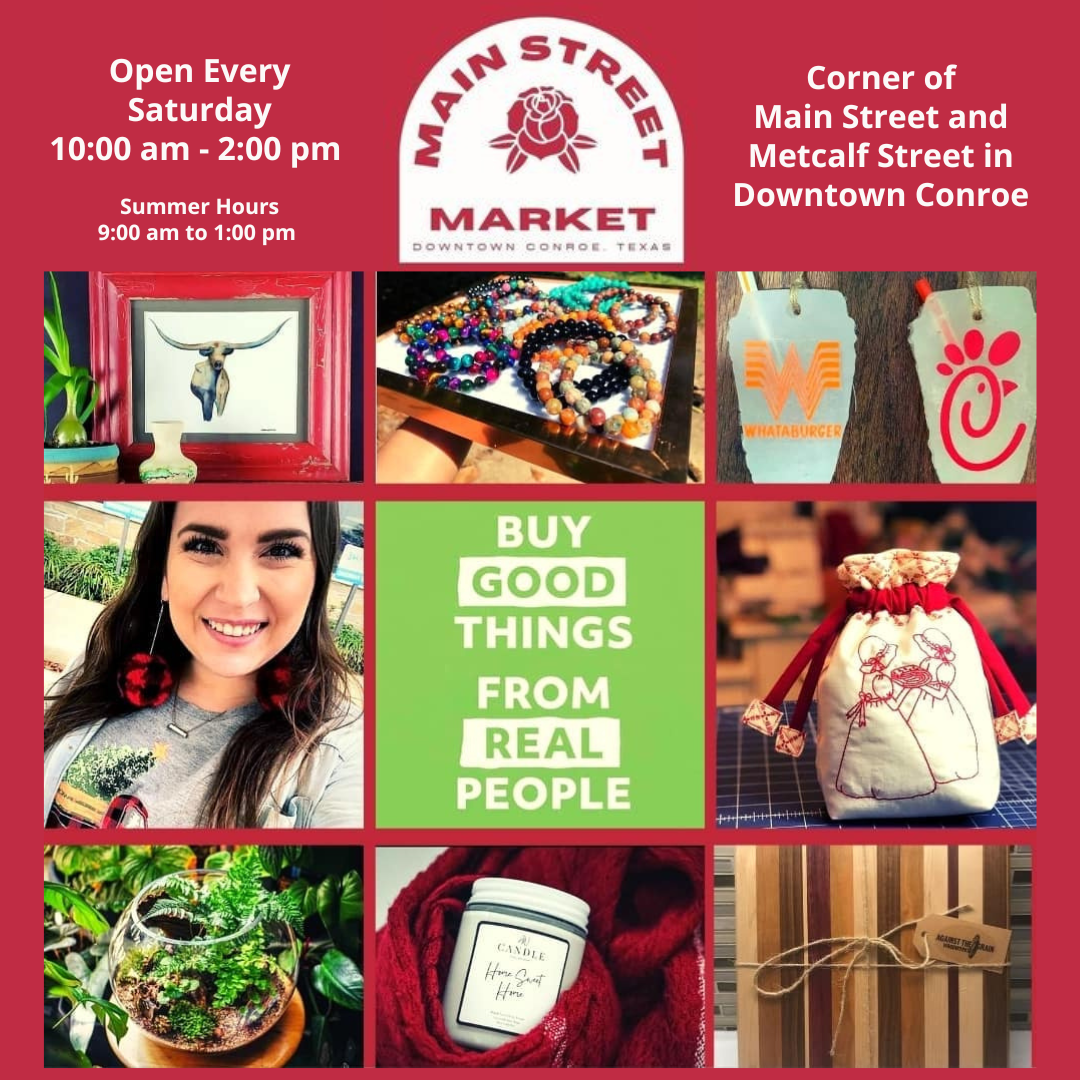 8 Sep 2022
More Is Made Here, Downtown Conroe, Area Companies
Every Saturday, visitors to downtown Conroe enjoy the opportunity to experience Conroe's local flavor. Featuring area vendors selling diverse products, Main Street Market allows customers to explore something distinctively Conroe. Main Street Market captures the charming experience delivered in downtown Conroe every day, while showcasing a unique opportunity to find products reliably made or grown by local vendors.
Upon recognizing the need for a local farmers market in Conroe, Farralyn Withrow began her role as the market developer for Main Street Market in 2021.
"I noticed many of our residents were going to farmers markets in neighboring cities to sell their products or shop," said Withrow. "We have a reliable pool of talented creators and customers right here in Conroe, so I knew we could be successful with a market here in Conroe."
Main Street Market runs year-round every Saturday in the downtown Juror Parking Lot at the corner of Main Street and Metcalf Street. Summer hours are 9:00 am to 1:00 pm, while hours are 10:00 am to 2:00 pm beginning in September.
Withrow started as a vendor in markets in nearby Magnolia; however, she began seeking a new opportunity after being laid off in 2020. On a visit to Conroe, she grabbed a coffee from a downtown vendor cart within sight of the current home of Main Street Market.
"I asked if any markets were held in that space, and he said, 'No, but we need one!'" said Withrow. "So, I thought I would take a shot at running the business."
Promoting Reliability in Our Community
After consulting with Conroe Downtown Manager Frank Robinson, Withrow opened the first Conroe Main Street Market in April 2021 and has not looked back. Withrow moved to Conroe to start Main Street Market and learned Conroe is a tight-knit community that is quick to support and rally around newcomers.
"The community embraced me and the market and showed they are a group of individuals who can be relied upon to support the community," she said.
Withrow has found a lengthy list of reliable vendors, many offering their products based on sustainable, natural, and handmade methods. As many as 40 local growers, artisans, and craft makers are prepared to welcome visitors on Saturdays.
"We are a maker's market," said Withrow. "We are pretty heavy on handcrafted items, and we like it that way."
Encouraging Entrepreneurship in Our Community
From budding entrepreneurs to seasoned small business owners, you will find a variety of vendors each Saturday at Main Street Market, all of whom receive support and encouragement from Withrow and the Conroe community.
"Our goal at Main Street Market is to help small, local businesses and individuals," said Withrow. "I believe the easiest way to start a business is to begin with a booth at the market."
Engaging Partnerships in Our Community
Withrow values the ability to form partnerships with local entities to foster a reliable community network. One of the most impactful relationships is with Hands of Justice, a survivor-led anti-human trafficking group. It recently opened an Economic Empowerment and Resource Center in Conroe, where Main Street Market vendors will teach participants their unique skills.
"We will start with specific vendors but adapt to participant interests because we want it to be something they can be passionate about," said Withrow. "The participants will receive a free booth at Main Street Market to present their products."
MoCo Food Hall recently opened in downtown Conroe creating an opportunity for culinary entrepreneurs to break into the restaurant business.
"Three of our vendors have moved into MoCo," said Withrow. "I truly believe we are an excellent starting point for small businesses."
Along with the Conroe Downtown Area Association, Main Street Market helps facilitate Sip N' Shop once a month on Thursday evenings. Shoppers stroll through local shops, enjoy refreshments, and enjoy music in the streets of downtown Conroe.
"It is honestly quite dreamy with all the lights on and everyone enjoying themselves," said Withrow.
As Main Street Market gathers positive momentum, Withrow recognizes the advantages of reliable innovation and the opportunity created by providing talented creators of everyday products an avenue to succeed.
"We are eager to continue building partnerships with area associations and existing brick-and-mortar shops to provide space for locals to make their dreams reality," said Withrow. "The more they grow, the more they can support others in our community."