Leadership is Made Here Featuring Leadership Montgomery County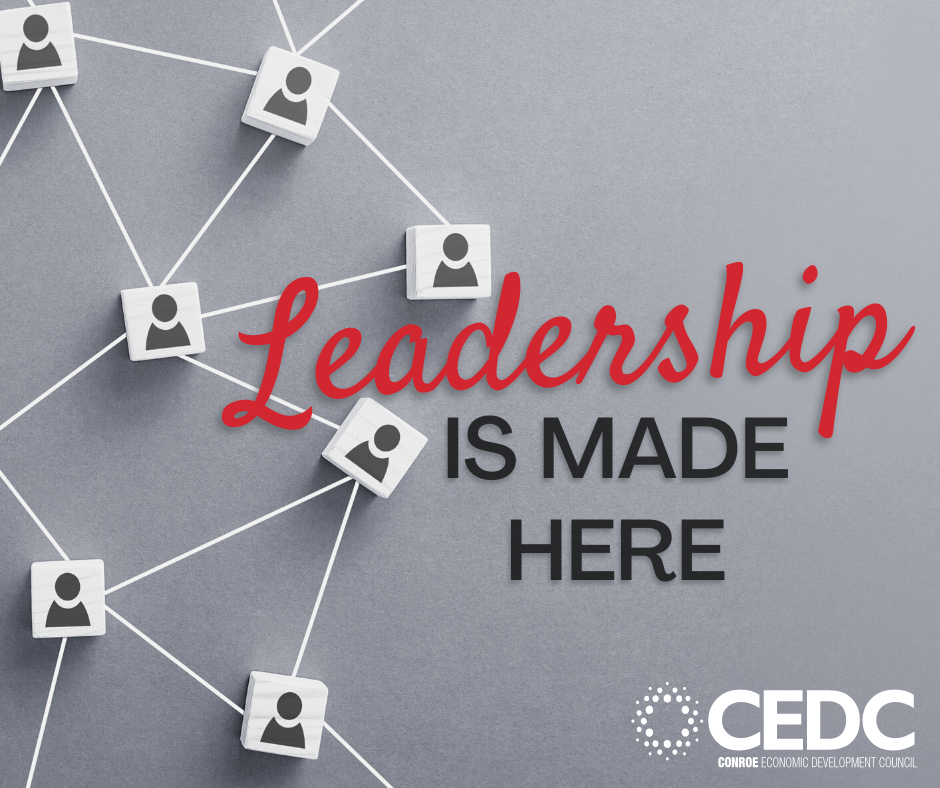 18 Jul 2022
More Is Made Here, Area Companies
With a mission to prepare emerging and existing leaders to understand local issues, grow their leadership skills, and connect with others to better serve Montgomery County, Leadership Montgomery County (LMC) plays a major role in shaping the Conroe area's network. Graduates of LMC utilize what they learn to ascend to leadership opportunities or strengthen their abilities in existing leadership roles. With more than 800 graduates, LMC offers a shining example of how Leadership is Made Here.
LMC was founded in 1987 as Leadership Conroe by the Conroe/Lake Conroe Chamber of Commerce. The Woodlands Area Chamber of Commerce joined as a partner in 1995, and the name was changed to Leadership Montgomery County. The organization became a standalone nonprofit in 2005 and operates with a board of directors, while partnering with six local chambers.
LMC participants engage with leaders from economic development, healthcare, public safety, and several other industries to form a strong curriculum based around local issues. Sarah Rhea, LMC Executive Director and class of 2007 graduate, believes leadership is critical in today's world.
"Leadership is more important now than ever. We've seen how being adaptive to change is such a necessary trait today. The more that we can do to manage situations, build consensus, and learn to handle change, the better off we'll be," said Rhea. "We feel like Leadership Montgomery County participants can better serve the community if they are prepared, have leadership tools, and understand the community. By educating leaders on the issues, they have the advantage of understanding them and making connections with key stakeholders before making important decisions.
LMC graduates have a track record of making a difference. From nonprofit boards to community leadership positions, LMC has served as a springboard for local involvement.
"It's impactful to see graduates from the program make a difference in the community. Our alumni are focused on positively affecting the community and are doing that every day," offered Rhea.
Conroe Economic Development Council (CEDC) Executive Director Danielle Scheiner and Deputy Director Laura Lea Palmer are examples of LMC graduates making a difference in their community. The two leaders utilize the connections and lessons gained from the program to actively improve the Conroe community and economy. The impact of LMC continues to manifest in the lives and careers of the CEDC professionals.
"The program has meant so much to me that I don't think I could overstate it," said Scheiner. "People have to understand their community well to serve it well. This program provides the tools necessary to do that. There's a level of credibility within the community for the program and the people that graduate. An incredible number of graduates have gone on to do great things."
The diversity of the LMC programming ties in very well with the many issues that impact economic development. Infrastructure, education, and government - all with sessions based around them - play key roles in the success of economic development. Scheiner, class of 2006, and Palmer, class of 2012, currently serve on the board of directors and actively participate in the curriculum to showcase the value of economic development to LMC participants. Rhea feels that connecting partners highlights the best of economic development and LMC.
"We're big proponents of partnership and working together. Economic development is so much about collaboration. The more that we can include a range of voices/perspectives within our community, the more we can impact economic development," added Rhea.
Many of the companies investing in Montgomery County are looking for opportunities to invest in their people. A leadership development opportunity like LMC is a way for businesses to show commitment to an employee's future.
"People are a company's greatest asset. If employees are prepared in leadership situations, they're going to be greater assets to the company moving forward," said Rhea.
For 35 years, LMC has been preparing leaders for opportunities to make a difference in their community. The impact of these graduates is showcased every day in Conroe from economic development to city government. Leadership Montgomery County proves that in Conroe, Texas, Leadership is Made Here!