Craft is Made Here Featuring Conroe's Beer Scene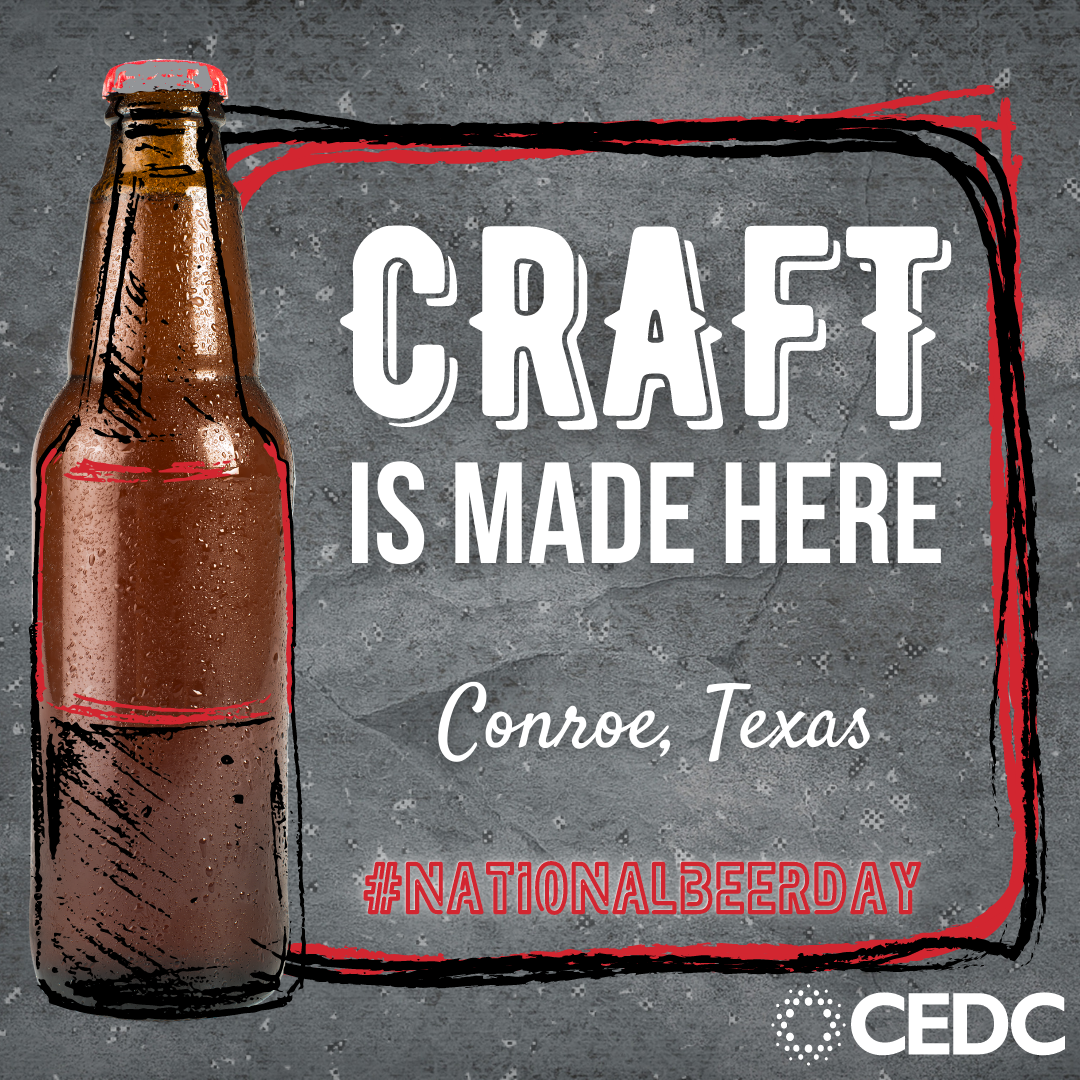 7 Apr 2022
More Is Made Here, Downtown Conroe, Area Companies
From natural beauty and historic charm to delicious cuisine and awe-inspiring cultural arts, people head to Conroe for unique experiences and places. This is certainly the case for those who enjoy craft beer and an exciting brewery experience! With numerous local options for quality craft beer in Conroe, this April 7th - National Beer Day - learn how Craft is Made Here.
Underscored by four distinctly different experiences and tastes, Southern Star Brewing Company, B-52 Brewing Company, Copperhead Brewery, and Fass Brewing Company offer a strong range of choices for beer lovers. Whether you desire an outdoor beer garden or a historic downtown building, Conroe's breweries have you covered. From porters and stouts to lagers and ales, everyone can find something to quench their thirst. Conroe's craft beer offering is highlighted by its diversity.
"What I think is super cool about the craft beer scene in Conroe is that there are four breweries and we all offer something different," said Dave Fougeron, founder of Southern Star. "I notice customers go back and forth between breweries because we all do something unique."
As the second oldest craft brewery in the Houston area and the first craft brewery in Texas to can craft beer, Southern Star has helped make Conroe a strong craft beer community with its diverse lineup of permanent beers and seasonal releases. Since it was founded in 2007, Conroe has welcomed Southern Star with open arms.
"I was really happy to be able to bring a brewery to Montgomery County. The City of Conroe has been absolutely fantastic about embracing us," offered Fougeron.
Connecting with the community and giving back to local causes has always been important to Southern Star and all of the breweries in town. Conroe thrives on collaboration and being a great partner is part of what makes the craft beer creators so beloved. Southern Star has dedicated beers to the Conroe Fire Department, partnered with Crown Cork & Seal to create a special beer for Conroe Lobsterfest, and has plans to brew a Ukrainian brewery's beer that will generate proceeds for causes benefitting the war-torn nation.
"The people of Conroe are incredible. We are always excited and looking for ways to be involved," added Fougeron.
Fougeron and Southern Star have helped launch the Conroe Area Alcohol Producers Association (CAAPA). The four breweries, in addition to local distilleries and meaderies, meet once a month to collaborate and discuss industry challenges and opportunities. These alcohol producers are committed to making Conroe a great place to enjoy a drink, especially craft beer.
Texas Brewery Tours is another partner making Conroe a craft beer destination. Co-founded in 2020 by beer lovers Caleb Corbell and Mike Sanchez, Texas Brewery Tours safely and enthusiastically transports customers between Conroe breweries. With several tours to choose from, customers have the option to visit as many as three breweries on a single tour. The business allows Corbell and Sanchez to give visitors the same experience they enjoy in Conroe.
"Conroe is a great place for craft beer. We love the Conroe breweries and the products they make," said Corbell. "Texas Brewery Tours highlights the craft beer spots we have in Conroe. The venues are awesome and the people are great. You really feel that small town warmth."
Corbell says the craft beer scene in Conroe has mirrored Texas, exploding in recent years. People are constantly looking to try a beer not easily found in a grocery store or restaurant. Ideally, they want to experience this at breweries where the craft beer community comes together.
"When people visit, they want to try something they can only get in Conroe. We are always hearing from our customers about the great beer and positive experiences at Conroe breweries," added Corbell.
Craft beer and the brewery experience in Conroe is definitely hoppin' - pun intended. There is something for everyone to enjoy, from an all-day trip with Texas Brewery Tours to a special stop for the newest beer release. Everyone from the beer snob to the simple sipper, raise a glass to Conroe on National Beer Day and toast to the fact that Craft is Made Here!