Opportunity is Made Here Featuring Conroe's Capable Workforce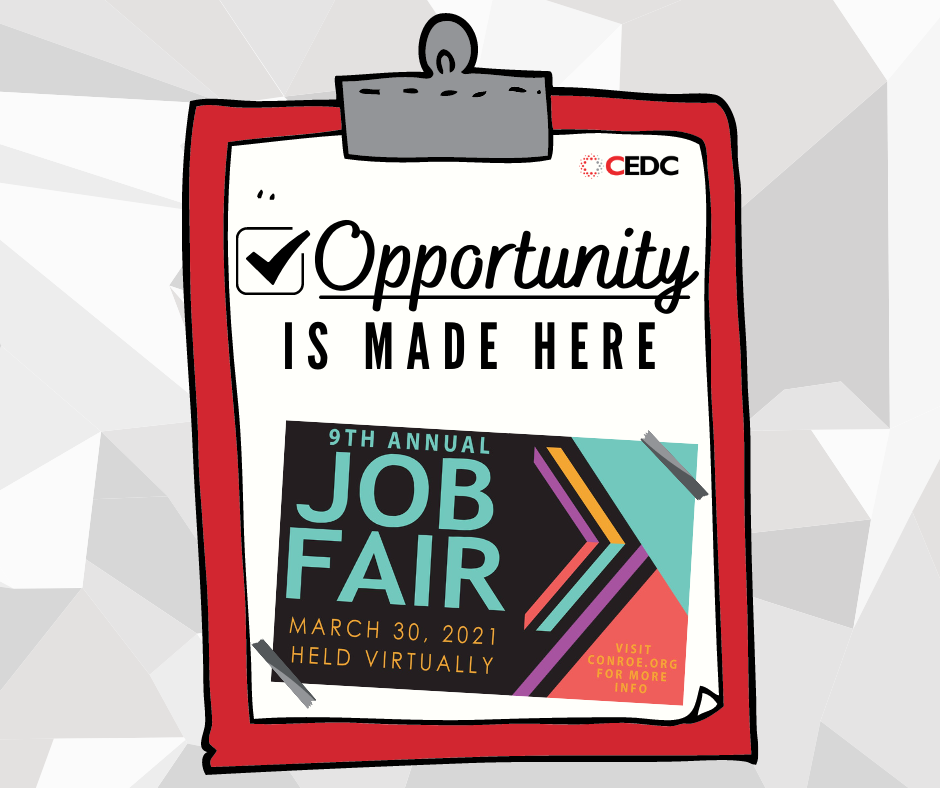 8 Mar 2021
More Is Made Here, Business News
Like the unique charm that permeates the City of Conroe, opportunity is abundant here! Opportunity in Conroe is located at the intersection of business-friendly and career-ready, a nexus where you can turn your dreams of starting a business or launching a new career into reality. And this possibility exists because of the collaborative spirit within Conroe's premier business community that shows Opportunity is Made Here.
While it may not be unique to Conroe, economic opportunity is accentuated here. City and business leaders have taken steps to ensure Conroe maintains its place as an attractive economic hub. Conroe's reputation attracts entrepreneurs, large manufacturers, and everyone in between.
Headlining why Conroe is great place to do business is the region's capable workforce. Many companies have identified the talent pool as a reason for locating in Conroe. Nearly 1.6 million potential employees are located within a 40-mile radius of Conroe creating a pipeline of skilled employees for companies locating here. And as one of America's fastest-growing large cities, Conroe's available workforce continues to expand and diversify.
And that's not by accident.
To help develop the available talent, workforce partners like Lone Star College (LSC), Conroe Independent School District, and Workforce Solutions design programs that put students on paths to successful careers. Located inside Conroe Park North, the City of Conroe's preeminent industrial park, LSC - Conroe Center offers several programs that translate directly into jobs Conroe companies are looking to fill.
The Conroe Economic Development Council (CEDC) and Conroe/Lake Conroe Chamber of Commerce (Chamber) are using a joint Workforce Development Committee to partner with local school districts, colleges and universities, and the business community to train individuals for careers and connect employers with job seekers.
Chaired by Dr. Rebecca Riley, President of LSC - Montgomery, the committee is using recommendations from a 2019 CEDC-conducted skills gap analysis to advance a competitive workforce strategy. The skills gap analysis outlined three goals:
Create a platform for linking potential workers, education/training providers, and industry;
Better align education and industry through strong feedback loops and systems;
Create a higher level of awareness among students and potential workers of high-demand careers and their related programs.
These goals led to the formation of three subgroups, each with the mission of executing the goals outlined in the skills gap analysis.
And the dedication to creating economic opportunity in Conroe doesn't stop there. In addition to hosting a FREE job posting opportunity for Conroe businesses on their website, the CEDC is also doing its part by helping to connect Conroe companies and available talent via a job fair that has been known to attract more than 600 job seekers and more than 60 hiring companies. The CEDC partners with the Chamber, LSC, and Workforce Solutions to host the event that highlights opportunities available for hiring managers and future employees.
The 9th Annual Job Fair will take place on March 30, 2021, using a unique virtual platform that can expand the job fair beyond those who normally attend in person, providing more opportunities to connect businesses with job seekers.
"Though the platform looks different this year, our annual job fair is always a chance for Conroe to highlight some of the best it has to offer," said Jennifer Matthews, Associate Director - Business Retention and Expansion. "We didn't want to miss this important opportunity to help match our outstanding area companies with prospective employees."
The talented workforce in and around Conroe finds their opportunity through great careers in a desirable location. Noticing the rising opportunities for high-paying careers created by Conroe's economic growth, job seekers are looking to Conroe for their next step, and its diverse economy allows them to find the right fit. Conroe attracts a wealth of manufacturing, retail, health care, life sciences, construction, and tourism companies. The influx of new businesses in Conroe Park North, Deison Technology Park, Grand Central Park, and throughout Conroe further diversifies the types of career opportunities in Conroe.
By continually bringing together representatives from employers, educators, and local leadership, Conroe is demonstrating its commitment to workforce development and creating new opportunities for local businesses and job seekers. It's no wonder that in Conroe, Texas, Opportunity is Made Here!