Conroe Celebrates Grand Opening of The Woodlands Hills Community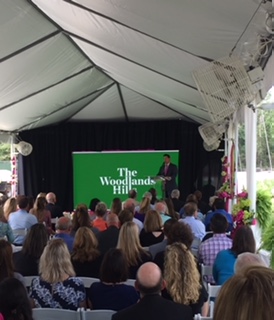 Conroe's newest residential community, The Woodlands Hills, held a grand opening dedication on July 19. The Woodlands Hills, located on FM 830 one mile west of I-45, is a 2,000-acre master-planned community designed and developed by The Howard Hughes Corporation.
The celebration served as a chance for local leaders and elected officials to formally welcome the development as part of the Conroe community. The event included comments from Conroe Mayor Toby Powell and Heath Melton, Vice President of Master Planned Communities, Residential for The Howard Hughes Corporation.
"I love watching ideas grow and develop into communities," stated Mayor Powell. "We could not be happier The Howard Hughes Corporation chose Conroe for this development. The Woodlands Hills is going to bring people and business to an already thriving Conroe."
Melton commented that The Woodlands Hills is a symbol of new beginnings with an eye on the future. Conroe's rapid growth and advantageous location were catalysts for the development.
"Developing a community in Conroe was a logical next step in our progression," added Melton. "Conroe is one of the fastest growing cities in the United States and close to everything. The Woodlands Hills makes sense for everyone."
Melton also sees potential for more growth around Conroe as The Woodlands Hills continues to fill out. He expects that as the community grows it will lead to a rise in local business.
"We expect that Conroe and The Woodlands Hills will grow together. Rooftops bring retail, so the added population should lead to more business growth."
The Woodlands Hills will feature 112 acres of open space, 20 neighborhood parks, a 17-acre Village Park and an activity center with event space and a fitness facility. A mix of retail is also planned.